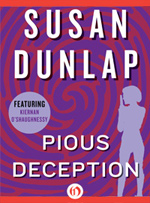 Pious Deception
Kiernan O'Shaughnessy was great fun to write. She doesn't mince words or back down and when I was writing her, I didn't either. Great fun for me, less so for those around me during the process.
Kiernan's commitment to truth and her urge to champion the defenseless got her fired from her job as a medical examiner in a country north of San Francisco. But now she's got a decadent lifestyle to support—a duplex on the beach in La Jolla, an Irish Wolfhound almost as tall as she is, and an ex-jock as her houseman, cook and dog-walker. Even so, when the bishop of Phoenix, Arizona offers to pay her considerable fee to investigate a very confidential matter, she hesitates.
The young priest of a small parish has been found hanged from an altar in his own church. The bishop wants Kiernan to discover how and why he died, for unless she can prove that the death was not suicide he cannot be buried in sacred ground—and the resulting scandal could keep Bishop Raymond Dowd from the archbishop's miter he so desperately covets. What Kiernan discovers is a whole lot more than even she imagines, though not what you might think.
Buy it from Amazon – Barnes & Noble – Kobo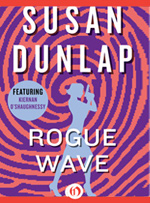 Rogue Wave
From the flap: Guts and honesty got Kiernan O'Shaughnessy fired from her job as medical examiner in a county north of San Francisco. Now, she runs her own very successful detective agency; she takes only cases that interest her, and, normally, only ones that pay her considerable fee. But when the wife of a brain-damaged hit-and-run victim gets a lead on who was behind the wheel, Kiernan can't refuse to follow it up. The suspect in the "accident" is Robin Matucci, the femme fatale captain of a charter fishing boat that caters to the rich and powerful. Matucci mixes with a crowd known for its shady dealing and hired thugs. The case leads her from La Jolla, to Big Sur, to San Francisco and Marc Rosten, the acting coroner there—her own ex-lover.
Buy it from Amazon – Barnes & Noble – Kobo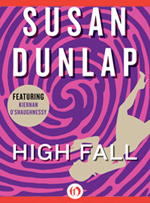 High Fall
Sometimes you can't get things out of your mind and writing a book is the only way to deal with them. There were two issues here. The first is that there's a place on the palisades in La Jolla called Gliderport. Hang gliders fly from the high cliff out over the ocean. One of my friends happened to be looking out a window nearby and saw a glider take off, the wind catch it and smash the pilot back into the cliffside. We all do things that are dangerous, but we convince ourselves they're not really, not this time, not for us. The second is that I kept wondering how people who were the very best at their jobs, who had achieved everything possible, survived after that job was taken away? How specifically? Since I was obsessed, Kiernan is obsessed. She can't accept the "accidental" death of a young stunt double doing a supposedly safe high fall over that cliff, a move perfected by the man who was the best stunt double of his time.
Buy it from Amazon – Barnes & Noble – Kobo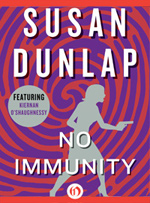 No Immunity
What happens when people are afraid to—or can't—go to a hospital when they have a deadly, contagious disease? What happens to them, to the people around them; who's helping and who's covering up? Las Vegas is transient central and when Kiernan answers the desperate call of a doctor-friend there, she ends up facing the danger on her own.
Or almost. There's Brad Tchernak, whom she's desperate to keep as her housekeeper, cook and dogwalker. Tchernak, who's equally desperate to be a partner in her detective agency. He leaps in with his own investigation, and it's not all helpful. Au contraire.
Buy it from Amazon – Barnes & Noble – Kobo