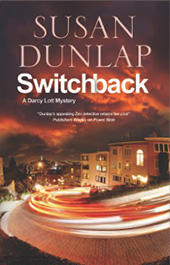 Switchback
A Darcy Lott Mystery
When her Zen teacher is attacked in front of her by a silent, hoodie-clad assailant, Darcy Lott feels uncharacteristically helpless. If she cannot identify Garson-roshi's attacker, she cannot protect him. For whoever it is will surely strike again.
But who would have a reason to assault this wise and gentle man? As she questions her fellow students and other acquaintances of the Zen master, it becomes clear that Garson-roshi has been keeping secrets from Darcy. What happened while he was living in Japan? And where does he disappear to on the last Wednesday of every month?
Distracted by the possibility of her big career break on a new action movie, Darcy finds herself unprepared when the case takes a shocking twist...
SEVERN HOUSE | 978-0-72788-522-7 | Cloth | $27.95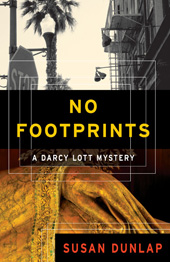 No Footprints
A Darcy Lott Mystery
While scouting a location site on the Golden Gate Bridge, stunt double Darcy Lott sees a woman about to jump. The woman fights, but Darcy manages to pull her back. Before disappearing, the woman tells Darcy that by Thanksgiving she'll be dead. Darcy has four days to find her and keep her from killing herself, but she has no idea who she is.
COUNTERPOINT | 978-1-61902-166-2 | Trade Paper | $14.95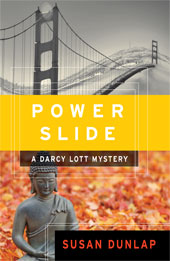 Power Slide
A Darcy Lott Mystery
Stunt double Darcy Lott is on location at the Port of Oakland, positioned for a power slide—a dangerous trick in which she falls off a bike and skids under an 18-wheeler. Late getting to the set, Darcy's intermittent boyfriend and stunt driver Damon Guthrie is forced to rush the scene. His truck malfunctions and Darcy is injured. Tensions have never been higher between them, and on top of it, Darcy's siblings are pressuring her to search for Mike, their missing brother. The hunt leads her to the canyons of Los Angeles, a stunt ranch hidden in the desert, and ultimately to a horrifying discovery in San Francisco.
COUNTERPOINT | 978-1-58243-727-9 | Trade Paper | $14.95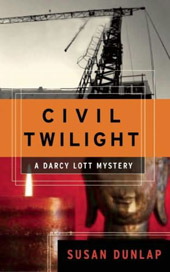 Civil Twilight
A Darcy Lott Mystery
When Darcy Lott's lawyer brother introduces her to his mysterious client, Karen, Darcy takes an instant liking to her. But when a murder shocks the city and the police are anxious to pin the death on her older brother, John, Darcy is forced to delve deep into Karen's past, only to discover a scheme even more shocking than murder itself.
COUNTERPOINT | 978-1-58243-594-7 | Trade Paper | $13.95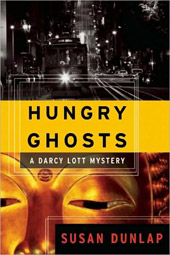 Hungry Ghosts
A Darcy Lott Mystery
In the second thriller of Susan Dunlap's acclaimed series, stunt double Darcy Lott returns to San Francisco to serve as assistant to her Zen teacher. Soon, the people she cares about begin disappearing, but Lott is unable to convince anyone of the danger—until a brutal murder shocks them all.
COUNTERPOINT | 978-1-58243-499-5 | Trade Paper | $13.95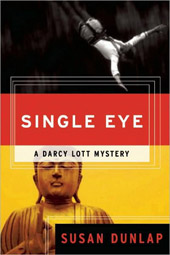 A Single Eye
A Darcy Lott Mystery
Award-winning mystery and crime author Susan Dunlap introduces a brilliant new heroine: high-flying stuntwoman Darcy Lott. When a stunt goes awry and injures her protégé, Darcy retreats to a Buddhist monastery in the California redwoods. She finds that the monastery harbors its own secrets and dangers, and when her life is threatened, she must conquer her fears in order to discover the truth and stay alive.
COUNTERPOINT | 978-1-58243-419-3 | Trade Paper | $12.95