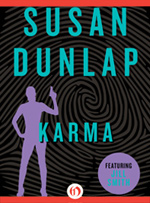 Karma
Karma was my first published book and my most often re-published. Here you meet Berkeley Patrol Officer Jill Smith, who intended to go to a movie or for a drink, not to see a blessing ceremony for a visiting Bhutanese Buddhist holy man, and definitely not to see him killed.
Karma is different from all the others in that the original publisher insisted there be no real places named in it, including no intersections. In the next book, As a Favor, a new editor encouraged me to give more of a sense of place than was permitted in Karma, and that set the tone for the rest of the series.
Buy it from Amazon – Barnes & Noble – Kobo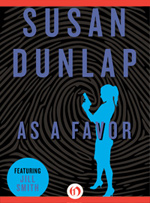 As A Favor
Jill Smith is in plain clothes, hiding in People's Park. The case she's working on involves the stripping of her friend Seth's Howard's patrol cars—first of hubcaps, then antenna, then fender... If patrol officers in Berkeley had a single car assigned to them, the department might have waited out the thief, but the way things were going, Howard could be responsible for denuding the entire fleet.
But Howard's not the only man in her life with a problem. Her ex-husband, Nat, calls wanting her to check up on a woman friend who is missing. He's not exactly explaining his relationship to this woman. He can't file a missing person's report. He's asking Jill to investigate this off the books, as a favor.
Buy it from Amazon – Barnes & Noble – Kobo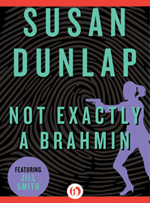 Not Exactly a Brahmin
Jill Smith is on her way to buy a pint of Chocolate-Chocolate Shower ice cream for dinner when a freak car accident up ahead not only ruins her appetite but plunges her into the middle of a complex murder investigation. A wealthy, influential member of Berkeley high society (not that any Berkeleyan would ever admit to being part of such a class) is killed when his Cadillac's brakes fail on the steepest hill. He careens down, across the city's only traffic circle, inauspiciously located at the bottom of that hill, and crashes. His death seems straightforward until Jill discovered that the car had just been serviced and the driver was nearly blind.
At the time I wrote this book, traffic on that circle looped around a centerpiece of weeds. In earlier years there had been a charming fountain there. It was demolished by a truck. But now it's back, a replica of the original.
Buy it from Amazon – Barnes & Noble – Kobo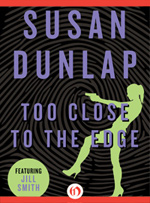 Too Close to the Edge
The City of Berkeley was generous in its gifts of material for these books. In this case, when citizens near the bay complained about people living in buses, parked on their streets, with all good intentions the City created a lot for those buses to park in. Sounds like a win-win, except that that lot was located on a bayfront peninsula with a view of the Golden Gate—one of the most desirable spots in the city. Some people were outraged. I was delighted. I hope you, too, will be.
Buy it from Amazon – Barnes & Noble – Kobo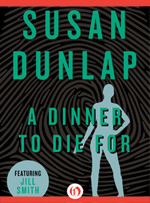 A Dinner to Die For
Once again, the city of Berkeley gave me a plot. I was grateful. Other cities might not have done so. You might think that just the existence of a Gourmet Ghetto would be enough, but there is also a Gourmet Ghetto Ordinance which limits the number of gourmet-connected establishments in this prime four block area. That sounds sensible enough, considering neighbors do not live by arugula alone, and have to drive for mundane things like hardware. But to the hopeful restaurateur, who suddenly realizes he cannot open the café of his dreams until another spot closes, it can be a matter of life and death.
As you might imagine, this book was delicious to write. I ate above my element—for research, of course. I hope you'll find it an appetizing read.
Buy it from Amazon – Barnes & Noble – Kobo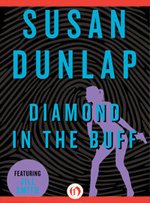 Diamond in the Buff
"Eucalypti fall without warning," a friend said. That comment might not make everyone think of murder but for me it was a beacon to:
Flap copy: The complaint of a nude, sunbathing dentist who claimed he was attacked by a eucalyptus tree had ruined Jill Smith's plans for a lazy afternoon. She would have chalked up the "assault" to another incident in the silly feud between Hasbrouck Diamond D.D.S. and his masseuse neighbor, if it hadn't been followed up by murder.
"This witty police procedural reveals much about life among the denizens of this university town... A romp through the Berkeley hills."
—Publishers Weekly
Buy it from Amazon – Barnes & Noble – Kobo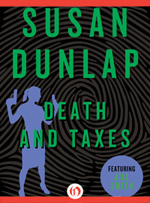 Death and Taxes
Need I say where I got the idea? This will be a pleasant read for anyone who has had an encounter with the I.R.S., who has had unworthy thoughts of revenge. But the twist will, I believe, surprise you.
"This poignant, suspenseful puzzler establishes Berkeley, California, homicide detective Jill Smith as one of the most interesting female series detectives."
—Publishers Weekly
Buy it from Amazon – Barnes & Noble – Kobo

Time Expired
Berkeley is the tenth most congested city in the nation, but in its midst are canyons—overgrown and wild. It's an odd juxtaposition. And this book is a juxtaposition of pranks and the deadly serious.
Flap copy: It was part street theater, part civil disobedience, and pure Berkeley: Someone was waging guerrilla warfare on the city's meter maids and their beloved parking meters. But when the prankster took detective Jill Smith and her colleagues on a wild chase into a deep, overgrown canyon, the game led to murder.
The dead woman, a firebrand attorney, was not above an act of civil disobedience herself. But she spent her last days in a nursing home perched on the edge of that canyon.
Prying into her extraordinary life and times, Jill discovered a strange connection between the meter capers and the frail, cancer-stricken women who had once been an unyielding defender of individual liberties. And then Jill found something more startling.
"Tense, surprising... adroitly plotted... One of the author's best!"
—Kirkus Reviews
Buy it from Amazon – Barnes & Noble – Kobo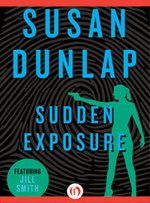 Sudden Exposure
The city of Berkeley gave me plots, but none other like this. A naked guy arrived on campus; the university expelled him. Protesters protested. The city council, which had no position of nudity, proposed a nudity ordinance. I went to the hearing (unlike some others in the audience, I was clothed) and the first chapter of Sudden Exposure just about wrote itself. Well, with Jill Smith editorializing. I'll say no more here.
Buy it from Amazon – Barnes & Noble – Kobo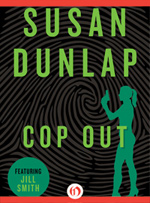 Cop Out
Herman Ott is my favorite character in this series. He's the old Berkeley counterculture personified, an eccentric p.i. who dresses only in yellow, lives in his office, refuses to cooperate with the police, but knows everything that goes on on Telegraph Avenue. And only Jill Smith can wheedle it out of him. She views him with exasperation and amusement, exasperation and respect, and, despite her better judgment with a certain fondness. But he never ceases to drive her crazy. So when he breaks three of his cardinal rules to meet with her because he needs her help, and then disappears, what can she do but go all out to find him—even if it makes her very unpopular at the police station?
Buy it from Amazon – Barnes & Noble – Kobo