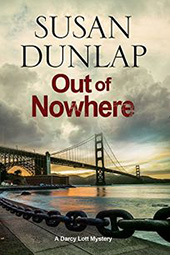 Out of Nowhere, the seventh Darcy Lott story, is available. Also large print.
Titles are odd fish. You either have then right off, or they swim out of sight the whole time you're writing. Sometimes they never resurface, and you end up with a make-do title. And sometimes that make-do has been the right title all along. Who knew?
Death and Taxes jumped out before I had an inkling of the plot. (And then, how could I not kill an I.R.S. agent?)
I loved the concept of Civil Twilight, a period that runs from the time when the sun is 6 degrees below the horizon until dawn and from dusk to back to 6 degrees below. Again, who knew?
Some of the best titles are so good they've been used before, and frequently. (Titles cannot be copyrighted.) I discovered that with Switchback.
Needless to say, Out of Nowhere just popped out (of nowhere). It's the scariest kind of threat, with no history, no connection, no way to grasp its tail before it swims out of sight. It lies in wait, or maybe it circles around to attack your back. For Darcy Lott it was a mid-day phone call she could not ignore. It leads her to that unsettling understanding that the solid ground is not solid. As the Zen Heart Sutra says: Form is emptiness.
Buy Out of Nowhere from Amazon – Barnes & Noble – IndieBound – Kobo
© Susan Dunlap. Web site by interbridge.