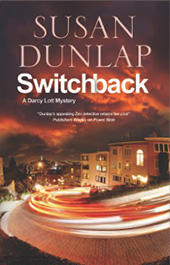 Switchback, the new Darcy Lott mystery, is just out! The title comes out of the plot, of course, but it also refers to the setting of the big stunt on San Francisco's crookedest street.
There are a lot of videos showing that block of Lombard Street. If you have a moment, check out "crookedest street" on YouTube and take a harrowing ride down.
Chances are if you've been to San Francisco you've driven down the switchbacks. Or better yet, walked—climbed—up the walkways beside them. Then you found yourself almost nose-to-cement, a perfect position to admire all the configurations of sidewalk. In the portions that are just too steep to maneuver, particularly in a normally rainy city, there are steps in the middle of the sidewalk. In other sections slashes across the cement to channel the rain and keep the surface from becoming slick, turning sidewalk into chute and shooting pedestrians down into the intersection. It is a challenge to walk, but perfect for setting up a stunt.
In the meantime, I'm about finished writing the sequel to Switchback, tentatively titled Out of Nowhere.
I've moved to Berkeley proper and I'm seeing the city from quite the different angle. Jill Smith may be surprised.
© Susan Dunlap. Web site by interbridge.